The Half Challenge-Barcelona 2013 is this year, and for the first time, a European championship. A breakthrough in the evolution and consolidation of the event that has also required several changes. All disciplines will see their circuits modified. Competition's director Agustí Pérez says "it is an honour that we should be compared to Roth (Germany), but we must be realistic and first we must take in this changes".
New swimming circuit
The new U-shaped 1.900 metres swimming lap moves it's starting line to the end of the Passeig de Garbí. The swimmers will have to make their way to the first buoy and then proceed parallel to the beach line. Finishing line will be in front of La Gavina restaurant, where the start used to be until now.
New circuit for the bikes
A highly demanding one single 90 kilometres lap that opens to the Vallès Oriental and will go through the Montnegre-Corredor and the Parc Natural del Montseny. The dreaded 'drafting' will be avoided and more participants will be allowed. Up to 7% slopes and a 659 metres net gain in altitude. The villages which the riders will go through will be:  Calella, Sant Pol de Mar, Sant Cebrià, Sant Iscle, Arenys de Munt, Vallgorguina, Sant Celoni, Fogars de Montclús, el Montseny, Sant Esteve de Palautordera and Santa Maria de Paulatordera.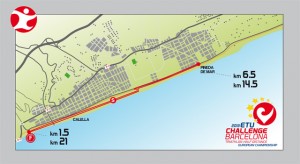 New running circuit
21 km along Calella's Passeig de Garbí to Pineda. A simulated elevated stadium will face Calella's lighthouse (El Far). The possibility of including Calella's streets in the track has been discarded.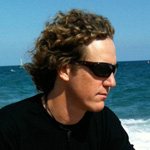 Translation by James Manresa